SheepBytes ration balancing tool is a web-based application designed to help flock managers, feed companies and nutritional consultants optimize flock performance and prevent potential nutritional 'profit leaks'.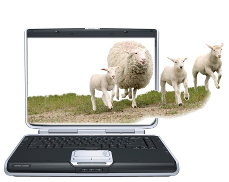 Welcome to the SheepBytes Demo
Check out the site. Try the demo version of SheepBytes.
The demo allows you to work with rations for four different animal types: growing lambs, mature ewes late gestation, mature rams on a TMR (total mixed ration) and pregnant ewes.
The opening page shows four possible rations. Check one box to select an animal group. For example Growing Lamb.
Look up to the tabs on the bar above, with your mouse 'click' on 'Open Ration'.
The next page will open on a ration for growing lambs with barley silage, oats and 32% supplement. Note the top bar for animal details on growing lamb demo.
You can work with up to three feed choices per animal type.
You can adjust animal information. Change growing lambs breed size (see Technical Manual), average bodyweight, or projected average daily gain. Save to review changes you're trying. A warning message will show when numbers exceed allowable ranges.
You can choose a variety of reports. In the demo version reports will be generated for the default feeds, rations and animal types.
Take a look at the 'Features' tab to see a series of screen shots from the program.
In the Demo, click your mouse to open the tabs across the top:
Ration

(select feeds to develop rations, based on latest NRC data, for a specific animals)

Animal

Select a type of sheep, such as growing lambs,
Add in optional information (environment, full fleece, etc.)

Feeds

Default feed libraries are based on feed test averages from 'western' and 'eastern' Canada.
'Check' the feed and click your mouse on 'add' for feed you would like to use in a ration. The demo is limited to three feeds.

Feeding information

(days on feed, costs, etc.)

Yardage

(roughly calculate the cost equipment, facilities, veterinary that make up your own 'yardage' costs)

Water

(add your own water test results)

Notes

(track dates, animals, notes to yourself)

Client

(for commercial users)

Client file storage and management
Generate and store unlimited rations
E-mail reports in PDF format to share with client
Academic institutions set up training accounts for multiple student use

Calculator

(quick addition / subtraction / multiplication)

Ration reports

(quick reports to full ration reports)

Costs by pen, feeding period, per pound of gain
Summaries on animal gain, feed wastage, feed inventories
Batch mixes, separate feeds or total mixed rations
Click to Launch Demo Now